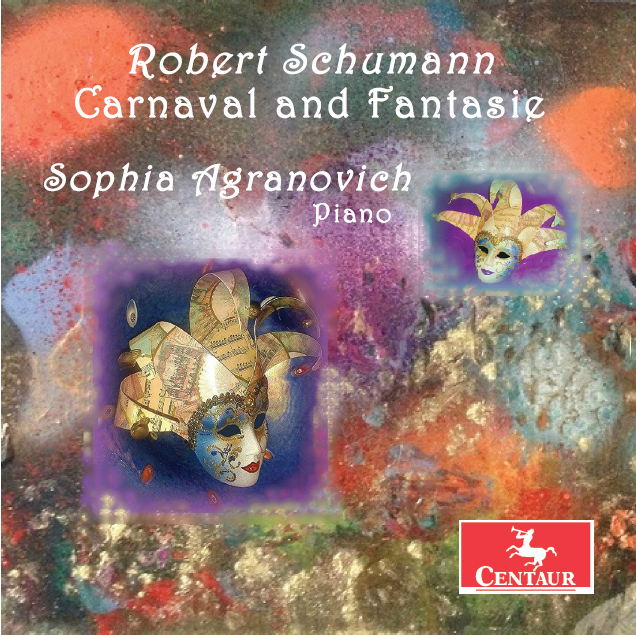 Robert Schumann: Carnaval and Fantasie
Label: Centaur Records | Catalog: 3504 | Release Date: November 2016
Robert Schumann: Carnaval, Op. 9 (Scènes mignonnes sur quatre notes);
Fantasie in C major, Op. 17

Live concert:  From Carnaval        From Fantasie
Sample tracks:  Carnaval        Fantasie
Reviews
"Without exaggeration, this can be described as a revelatory reading of Carnaval. Listen, for example, to the hiccupping, tipsy "Arelquin," whose tripping steps Agranovich traces with the most amusing depiction of a snockered clown burping his way through trying to walk a straight line. Again and again, throughout the 21 vignettes, Agranovich proves herself an exceptional master of the pictorial, a real colorist in the art of musical tone painting."
"I, for one, would not be unhappy to hear Sophia Agranovich playing this movement for all of my eternity. And yes, I know there are so many recordings of the Phantasie to choose from, you should ask not who by but by who not. But playing as beautiful, as poetic, as intimate, and as sweeping in it virtuosity as Sophia Agranovich's compels nothing less than an urgent recommendation."
-Jerry Dubins, Fanfare Read full review
***
"These performances of two of Schumann's most famous piano works is just so good, and so unusual, that it almost boggles the mind… Even if you have a dozen other recordings of Carnaval or the Fantasie, you need to have this one as well, because it will overshadow most of them. Agranovich plays it as if her life depends on it. Every note, every phrase is alive with feeling and meaning; you cannot listen to this CD impassively… I felt as if Schumann was communicating with me. It almost sounded as if she were the composer inventing the music at the keyboard… But it's that kind of recording…you almost feel like jumping up and applauding your heart out at the end."
– Lynn René Bayley, The Art Music Lounge   Read full review
***
"Agranovich spins a lyrical thread that holds the score together while at the same time giving us the individual flavor of each miniature. Her yielding touch is prefect for the tenderness of "Chopin," but one also notices here that Agranovich possesses intuitive rubato, which is all-important for both Chopin and Schumann. She is forceful in the opening "Préambule" without sounding hectic or clangorous. The passionate sweep of "Chiarina" doesn't slip into recklessness. This is a demanding score that displays every aspect of a pianist's artistry except Lisztian barnstorming, and as Agranovich proceeds from episode to episode, she is strong in every necessary quality."
"Agranovich plays the Fantasy with passion that's not overblown, tempo fluctuations that are not excessive, and a dynamic range that's not extravagant. So much for the negative virtues of this well-balanced reading. The positive virtues are just as evident. She has no trouble with the large scale of the Fantasy, and she plunges into the storms of the first movement with technical confidence and emotional freedom—Schumann's signature exuberance and exaltation are both captured."
-Huntley Dent, Fanfare Read full review
***
"Sophia Agranovich, native of Ukraine who now lives in the U.S. with the New York City area as her home base, gives stunning accounts of two of Robert Schumann's best-loved and most difficult works for solo piano. And she brings both of them off in a manner that made me feel I understood them better in spite of many years' previous acquaintance… Agranovich handles it all with style and intelligence."
–Audio Video Club of Atlanta Read full review
***
"She captures a sense of playfulness with a firm sense of the music's pulse and rhythmic subtleties, and even a feel for the acrobatics one might encounter at a carnival. Her enthusiasm and energy often seem close to crossing over into a hectic state, but she has the wonderful ability to get right up to that line without breaching the structure and order of the music, while still maintaining control of her technique and tonality. This is, for me, a perfect recipe for playing Schumann. The effect is similar in the Fantasie, with an especially thrilling reading of the middle movement. There are, of course, many fine versions of these masterpieces, including more than a few of historic interest, but I am loathe to compare these performances to others, except to say that if you seek the last degree of finesse there are compelling alternatives. Most of this music benefits more from passion and imagination rather than from digital precision; Agranovich has a distinctive way with this music that is uniquely exciting."
-Peter Burwasser, Fanfare   Read full review
***
"It must take some bravery to release a recording in this core repertoire… Agranovich holds her head up high to provide performances that deliver much satisfaction.. Her Carnaval is characterful and superbly rendered. Her teasing way with "Arlequin" is terrific, light and coquettish; yet she can convey all of the Romantic sweep of the line of the "Valse noble" perfectly. Her sense of timing is impeccable, rubato everywhere perfectly judged, so that "Eusebius" has a sense of flow as well as being gorgeously shaded; her fingerwork in the ensuing "Florestan" is impeccable, speaking of a superior finger strength much needed in this piece. Agranovich's low pedal approach to "Papillons," which would cause many a lesser pianist to crumble, works beautifully; similarly, the crispness of "Lettres dansantes" is most appealing. Throughout all this, Agranovich manages to keep the idea of a single piece, of a single thread running through all this diversity, perfectly in mind, lending the performance a sense of inevitability that climaxes with the "Marche des Davindsbündler" while honouring the individual nature of each segment, however slight. Listen to the delightful staccato of "Pantalon et Colombine," for example, or her off-the-cuff way with "Promenade."
"It feels like there had been an agreement to throw caution to the wind, and we gain immeasurably. Agranovich's sense of keyboard colour is heard at its most radiant in the finale, where the music unfolds at a beautifully natural pace, and crowns this very special Schumann disc most memorably."
-Colin Clarke, Fanfare  Read full review
***
Chopin: 4 Ballades
Label: Centaur Records |  Catalog: 3427 | Release Date: October 2015

Franz Schubert: "Wanderer" Fantasie in C major, Op. 15, D. 760;
Frederic Chopin: Ballades No. 1 in G minor, Op. 23; No. 2 in F Major / F minor, Op. 38; No. 3 in A-flat Major, Op. 47; No. 4 in F minor, Op. 52
Listen:    Schubert – 'Wanderer' Fantasie         Chopin – Complete Ballades
Reviews
"Her range is enormous, whether we are speaking of color or dynamics, but where she differs from so many improvisatory pianists is in her ability to appear to be making it up as she goes along while never losing the sense of overall architecture.
Agranovich is a Ukrainian artist who studied at Juilliard with Sascha Gorodnitzki and Nadia Reisenberg. That is a terrific pedigree, but many students don't really blossom into fully formed artists even with good teaching. Agranovich has. There are many great recordings of the Wanderer and the Ballades, and it would be preposterous to say that Agranovich is better than all of them. But what can be said is that she can take her respectable place alongside Curzon, Richter, Pollini, and even Edwin Fischer in the Schubert, and Moravec, Cortot, Rubinstein, Gornostaeva, and a few others as well in the Chopin."
– Henry Fogel, Fanfare   Read full review

***
"Like such Eastern European pianists as Lipatti, Fischer, Cziffra and, yes, Reisenberg, her Chopin is more muscular and less soft-grained than we are normally used to. (The only Western European pianist whose Chopin is equally wide-awake was Alfred Cortot, whose 1929 recordings of the Ballades compare favorably to Agranovich's.) …In Agranovich's skilled hands, these passages emerge as sturdy pieces of the overall structure, necessary transitions that bind the music together rather than simply rolling along. Such an approach makes all the difference in the world between glorified mood music and music that engages the mind as well as the emotions….
It makes perfect sense to me that it was written in November 1822 while Schubert took a break from writing his "Unfinished" Symphony—the music is of the same style, tragic in mood while employing strong counterpoint and inner voices to bring the feeling out. The pianist who approaches this work needs be mindful of this underlying structure, as it is imperative that everything be clear and all strands held together. Agranovich does this magnificently in addition to imparting more warmth to the work than young Brendel did.
This, then, is a disc of high intrinsic worth as well as another feather in the cap of this superb pianist. I highly recommend it."
– Lynn René Bayley, The Art Music Lounge
***
"Agranovich avoids anything resembling a modified Russian approach, striking out to find her own Chopin, which turns out to be unusually tender, gentle, and entranced. Even more than in the Schubert her gift for lyrical phrasing comes to the fore. The highlight is her reading of Ballade No. 4 in F minor, a work that instantly separates the poets from the poseurs. Her poetry is undeniable, and she brings out the element of fantasy in captivating fashion."
"She exhibits power and depth of tone, yet these qualities are subordinated to a natural lyrical gift of the kind that makes Schubert's melodies float aloft."
– Huntley Dent, Fanfare     Read full review

***
"Starting with the four magnificent Ballades, Ukrainian-born Agranovich chooses to emphasize Chopin's lyrical side, rather than the dramatic. She has her own sound and is definitely different from most of the other recordings.
Ballade 1 is executed with a delicacy and poetic vision like no other I am aware of. Climaxes are refined, the line is often reduced to a bare wisp of sound, and phrasing, articulated with great feeling, has its share of hesitations, awkwardness, and frequent disruption of the music's natural flow. It is all very interesting. Ballade 2 finds things a little more traditional. The initial theme is gentle, and the second theme bursts in. All goes very well. Ballade 3 returns. Yes, it brought a smile to my face. Ballade 4, the longest, greatest, and most complex of the set, has its expression lathered on with a large trowel. It does have its share of beautiful effects…Her tone is lovely."
– Alan Becker,  American Record Guide
***
"Agranovich's technical address is never in question, but what I really like about her performance is that it strikes me as combining the best of both Brendel and Kempff. It's as if she has absorbed from Brendel his organizational skill to bind the piece together and reveal its unifying formal principles; while from Kempff, she has absorbed the sense of philosophical and spiritual probing. Of course, Agranovich is her own and artist and brings to the score both commanding technique and poetic expression; but it's the ideal balance she achieves between the intellectual and the emotional that makes Agranovich's reading of Schubert's Wanderer Fantasy so satisfying."
– Jerry Dubins, Fanfare      Read full review
***
Brahms: Variations On A Theme By Paganini | Schumann: Etudes Symphoniques
Label: Centaur Records |  Catalog: 3367  | Release Date: 10/14/2014
Johannes Brahms: Variations on a Theme of Paganini, Op. 35, Books I  and II;
Robert Schumann: Études Symphoniques, Op. 13;
Robert Schumann – Franz Liszt: Liebeslied "Widmung" ("Dedication") 

Listen:    Brahms – Variations on a Theme by Paganini     Schumann – Études Symphoniques
Reviews
"It's not often that one encounters, in this day and age, an artist who not only has a dazzling technique, …but, better yet, an independent and individual way of thinking about music. Of course, when one specializes in the tried-and-true piano repertoire of the 19th century there is always a danger of having your "take" on a particular composer or work compared to the greats of the past (Schnabel, Gieseking, Lipatti, Fischer, Rubinstein, Gilels, Fleisher, Richter, Cziffra, Cherkassky, etc. etc.), but Agranovich has a way of expressing herself through this music in a way that almost precludes comparisons."
– Lynn René Bayley, Fanfare      Read full review

***
"The magnificent shading and superior musicianship Alan Becker notes in a review of Agranovich's recording of Beethoven and Chopin (Iuly/Aug 2014) is in full force here. Her boldness is evident from a rich, full-bodied Paganini Variations, where sensitive phrasing and surprising voicing in the slow variations effectively delineate dramatic contrasts and keep this from being a run of the mill reiteration of the score. Her ability to draw rich textures is also apparent in the Symphonic Etudes."
"…Ambitious and breath-taking performance."
– Kang, American Record Guide
***

"Sophia Agranovich is a bold, daring pianist in the tradition of the Golden Age Romantics… The impression is of a pianist swept away in the moment of performing."
"Agranovich's presentation of Schumann's Symphonic Etudes is a case study in technical mastery, musical depth, and meticulous attention to detail…  Agranovich combines the spaciousness of Richter and the propulsion of Gieseking to convey both tragedy and drive."
– Myron Silberstein, Fanfare   Read full review
***
"The highly accomplished Ukrainian-born pianist Sophia Agranovich gives exciting readings of two virtuoso works by Brahms and Schumann, but what gives them special interest is that she has taken the step (or leap) into interpretative freedom… She has the patience and temperament to give each of the 28 variations its own mood, and she also establishes a satisfying arc from beginning to end….The Steinway she plays is magnificent sounding and was recorded with depth and realism, a decided plus…  The result is a bold interpretation where every phrase is emphatically personal."
– Huntley Dent, Fanfare     Read full review

***
" But there's more to Agranovich's performance than its technical spit and polish. At least as well as, and perhaps even better than the others, she is able to channel some of the intense concentration and control required just to play the notes into musical characterizations of the individual variations…"
– Jerry Dubins, Fanfare   Read full review
***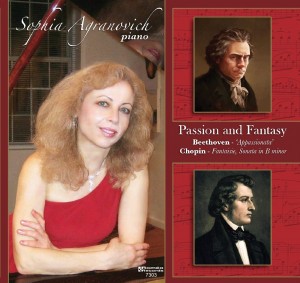 Label: Roméo Records  |  Catalog: 7303   |  Release Date: 06/10/2014
Ludwig van Beethoven: Piano Sonata No. 23 in F minor, Op. 57, "Appassionata"
Frédéric Chopin: Fantaisie in F minor, Op. 49
Frédéric Chopin: Piano Sonata No. 3 in B minor, Op. 58
Listen:    Beethoven – Sonata in F minor 'Appassionata'        Chopin: Fantaisie in F minor
Chopin -Sonata No.3 in B minor
Reviews
"She caresses the notes, milks the music for everyexpressive possibility, and persuades by a gentle coercion that can be seductive. I loved the opening Allegro maestoso, and had to restrain myself from crying with joy at the Venusian beauty of her playing. As a master of restraint she adds a new interpretive dimension to this often-recorded music… The added touch of restraint works beautifully in a performance that easily reaches the heights."
"Agranovich will be a major discovery for piano aficionados. This goes considerably beyond the realm of merely good pianism, and the rich bass sonorities of the recording give an added dimension of satisfaction. The pianist also writes her own notes."
– Alan Becker,  American Record Guide   Read full review
***
"Agranovich plays the tight canon in lulling form, the music's retaining its extraordinary singing power."
"Agranovich plays luscious chords and rolling arpeggios, resonantly ardent after her ominous "funereal" opening. Pungent declamations in a polonaise rhythm and the rolling arpeggio refrain lead to an orison of uncommon beauty, the serene atmosphere, although ephemeral, persuasively realized by Agranovich's subtle nuances."
"Everything about the central Largo evokes an elongated opera aria in the manner of a barcarolle saturated by parlando or recitative passages, the middle section of which rocks us in Agranovich's right hand triplets most caressingly. The impetuous Finale: Presto con brio thrusts Agranovich into a maelstrom tarantella her Steinway projects with frenetic energy.  By the blazing coda, her soaring octaves a crystalline runs have quite swept us into and beyond Chopin's rarified world to the hot-house vision that engendered the recital as a whole."
– Gary Lemco, Audiophile     Read full review

***

"In the Sonata No. 3, I was able to compare Agranovich with not only Reisenberg but with Lipatti, Cortot, Cherkassky, and Cliburn—certainly a clutch of outstanding pianists to drawn on. Agranovich does not really resemble any of them but comes closest to Lipatti, who also brought out the structure of the music he played. Yet I found her approach more poetic in places than his, pulling back a bit more on the phrases to allow moments to linger in the mind… Her métier is geared more towards music as architecture: a stylistically direct approach, albeit with fascinating and telling moments of rubato, an evolving sense of both mood and structure as two sides of the same coin, and a smoldering sense of passion in her playing. In short, she is a tigress of the keyboard, yet one who knows just how much to attack and when to pull back. She is a sort of cross between György Cziffra and Dinu Lipatti, a tigress who is also a poet… It is musical brinksmanship of an extraordinarily high order."
***
Franz Liszt – Bicentennial Tribute
Franz Liszt:
Trois Etudes De Concert, S. 144: "Un Sospiro"
6 Etudes, Execution Transcendante Apres Paganini, S. 141: "La Campanella" (Arranged By F. Busoni)
Rhapsodie Espagnole, S. 254 (Folies D'espagne Et Jota Aragonese)
Piano Sonata in B Minor, S. 178
Reviews  
"…Agranovich has not only technique, but is refreshingly unwilling to flash it, as she seeks out the subtleties Liszt has built into the music… It all comes together in an interpretation that dares to be different. Beauty has tamed the beast… Magnificent shading and superior musicianship…"
Alan Becker,  American Record Guide    Read full review
***
"…It's an amazing display of Liszt's keyboard wizardry, demanding of the player's exhaustive technical resources and staying power, which Agranovich brings to her performance in abundance…
Agranovich's reading of the Sonata is a masterly and brilliant display of pianistic virtuosity–I can't recall hearing any better–and Armonioso's recording captures her Steinway piano in New York's Sean Swinney Studios with lifelike presence. If it's a Liszt Sonata of grand sweep and rhapsodic romantic gesture you crave, Agranovich can be counted on to deliver the goods."
Jerry Dubins, Fanfare     Read full review
***
"Agranovich is a magnificent technician", "…gives us energy and tonal beauty", "white-hot passion…"
Maria Nockin, Fanfare   Read full review
***
 "Remarkably, Sophia Agranovich manages to present these extremely familiar works with a distinct profile. In general, her style is clearly textured, measured in tempo, and rhythmically playful without being mannered. "
  "…She travels across Liszt's vast world with poise and determination, and throws out a sure sense of grandeur and theater with nary a trace of pomposity and bombast, a refreshing way with this booby-trapped score."
 ***
Label: 

Sophia Agranovich  | 

Catalog: 

50144452 | 

Release Date: 

12/01/2010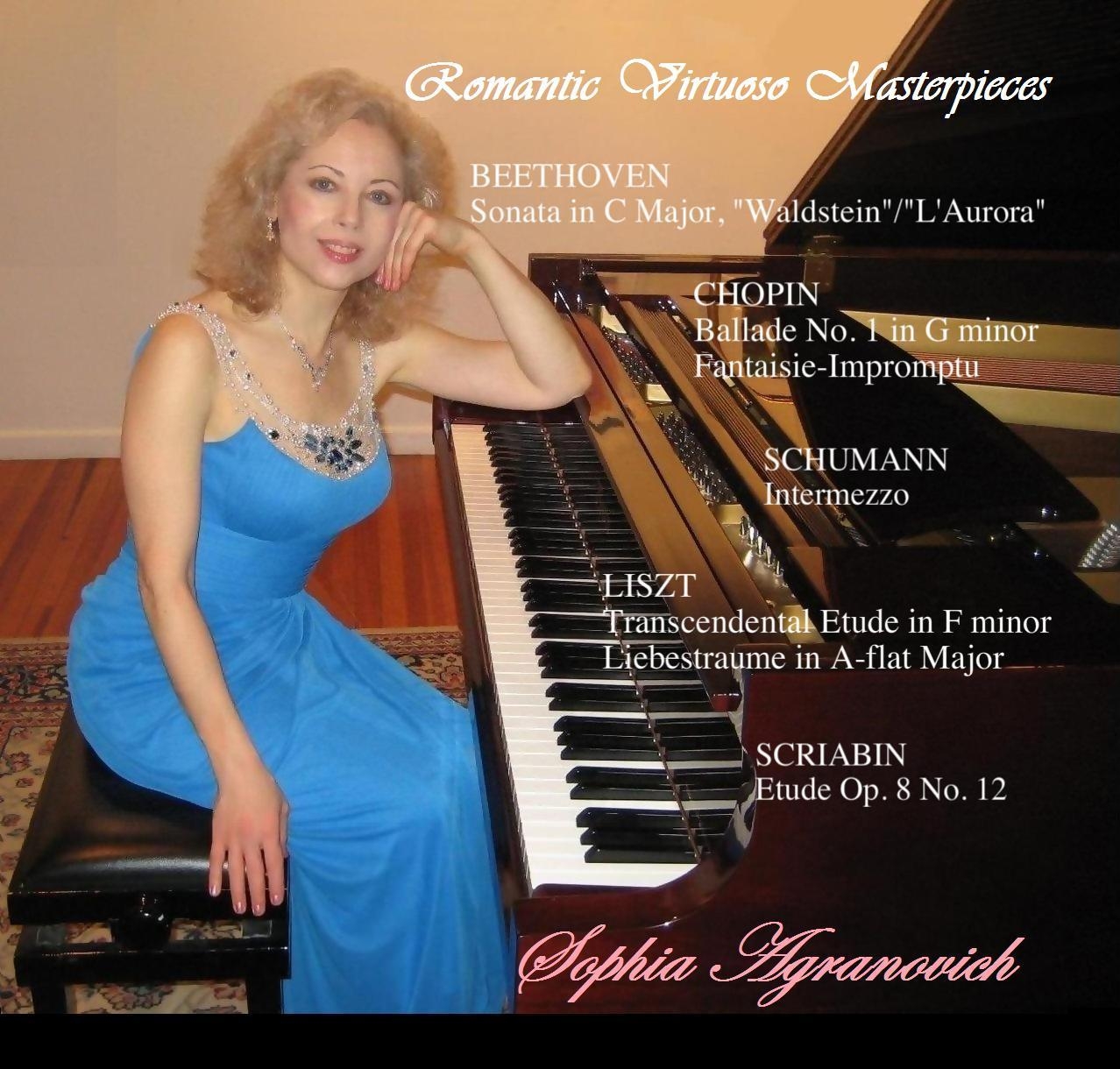 Ludwig van Beethoven:  Sonata for Piano no 21 in C major, Op. 53 "Waldstein"
Frederic Chopin: Ballade for Piano no 1 in G minor, B 66/Op. 23

 Frederic Chopin: Impromptu for Piano no 4 in C sharp minor, B 87/Op. 66 "Fantaisie-Impromptu"
  Robert Schumann: Faschingsschwank aus Wien, Op. 26: Intermezzo

Franz Liszt: Liebesträume for Piano, S 541: no 3, O Lieb, so lang


 Franz Liszt: Transcendental Etudes (12) for Piano, S 139: no 10 in F minor

Alexander Scriabin: Etudes (12) for Piano, Op. 8: no 12 in D sharp minor

Reviews  
" The pianist's technique is thrilling, but it's the boldness of her conception—her refusal to feminize the music—and the extraordinary dramatic urgency she brings to these pieces through grand Romantic gestures—probably to a greater degree than Chopin himself could or would have attempted on his Érard or Pleyel piano—that leaves one with the strongest impression of Agranovich's playing…"
"…It's not her speed as velocity that impresses, it's the precision and clarity of her finger work. Also astonishing is her dynamic range breadth which ranges from the most hushed pp to the most thundering ff, and her ability to control the gradations of her crescendos and decrescendos to everything in between so that the extremes are always arrived at naturally."
"How she does it I don't know, but Sophia Agranovich's alchemy of mind-bending technical prowess and heart-melting emotional expressivity add up to one of the most glorious piano recitals this side of Elysium. Urgently recommended."
Jerry Dubins, Fanfare     Read full review
***
"She surely knocks off the Liszt etude with panache, plays the finale of the Beethoven with impressive washes of sound, and deftly aerates the endless swirls of Schumann's piano writing—swirls that can so easily get stuck in lesser hands."
 "Unfailingly responsive to changes in musical terrain, she refuses to coast or to scant on the details, and the result is a series of eventful performances invigorated by imaginative articulation (the Liszt etude is especially striking in this regard), sensitive treatment of dynamics, and (most notably in the Liebestraum) a fine sense of phrasing in which plasticity of tempo never degenerates into self-indulgence."
 Peter J. Rabinowitz, Fanfare