Schumann:   Carnaval and Fantasie
Best Classical Instrumental Solo
For your consideration in the 60th Grammy® Awards 2018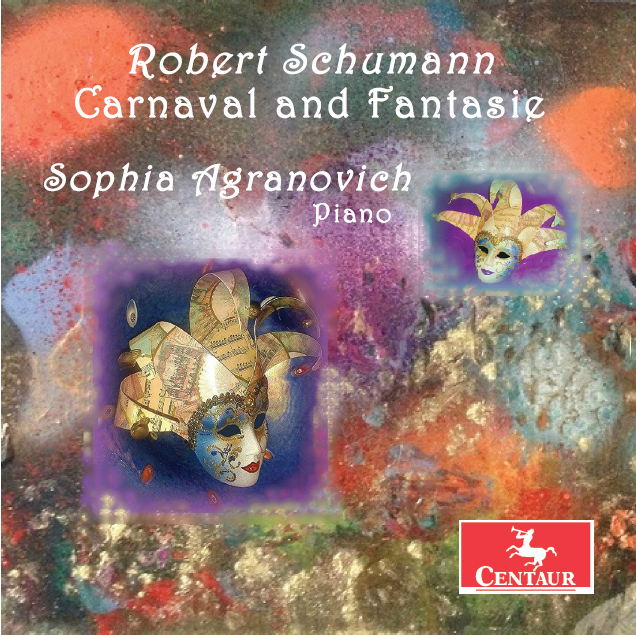 GLOBAL MUSIC AWARDS – Gold Medal Winner
In the top 10 albums list (#7) in ALL the genres/categories for the Spring-Summer 2017!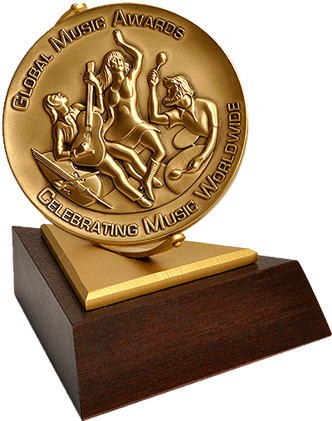 Robert Schumann: Carnaval, Op. 9 (Scènes mignonnes sur quatre notes);
Fantasie in C major, Op. 17
Label: Centaur Records | Catalog: 3504
Engineered by Joseph DeVico | Cover: 'Three Suns' painting by David Dubal; Venetian masks collage
Buy / Download:  

    and other major retailers
********************************************
Live concert:
      From Carnaval – Part 1    From Carnaval – Finale  
From Fantasie – Part 1    From Fantasie – Part 3
***
Inventive and virtuosic CARNAVAL, Op. 9, was written by Robert Schumann in 1834 and published in 1835. It originated from his unfinished variations on a Trauerwalzer (Sehnsucht) by Franz Schubert, and dedicated to the violinist Karol Lipiński. Subtitled Scènes mignonnes sur quatre notes–Little Scenes on Four Notes–this composition is a series of musical vignettes, picturing masked personalities at Carnival: Schumann himself (in fictitious Florestan and Eusebius, who embodied his split personality), his friends, contemporaries, and characters from improvised Italian comedy, commedia dell'arte. In 1834 Schumann was secretly engaged, although for only few months, to Ernestine von Fricken – a student of his own teacher and future father-in-law, Frederick Wieck. Schumann symbolically based almost every scene of Carnaval on pitch structure with German names: his fiancée's hometown, Asch: "A" = A natural, "S" (Es) = E flat, "C" = C natural, and "H" = B. In reordering of the letters to S-C-H-A composer saw his own name = "SCHumAnn". In addition, A-S-C-H is a part of the German word Fasching (carnival).    —  From the liner notes by Sophia Agranovich. Read more here
Carnaval (selected 15 tracks from 21) – listen on SoundCloud:
***

One of the greatest piano works of the early Romantic period, the FANTASIE in C Major, Op. 17, was written by Schumann in 1836 and dedicated to Franz Liszt. (Liszt in turn dedicated his own Sonata in B minor to Schumann in 1853.) The first movement of the Fantasy was originally composed as a piece Ruines during Schumann's separation from his beloved Clara Wieck, to whom he wrote: 'the first movement may well be the most passionate I have ever composed – a deep lament for you.' Later that year, he wrote two more movements, conceiving it as a sonata. It was a contribution toward funds for a monument of Beethoven in his birthplace, Bonn, being planned by Liszt. In the first movement there is a quotation from Beethoven's song cycle An die ferne Geliebte (To the Distant Beloved), which Clara was to Schumann at that time. The original title of the composition was "Obolen auf Beethovens Monument: Ruinen, Trophaen, Palmen, Grosse Sonate f.d. Piano f. Für Beethovens Denkmal", and later – "Ruins, Triumphal Arch, and Constellation." The piece was published as Fantasie without titles in 1839. 'Yesterday I received your wonderful Fantasie; today I am still half ill with rapture', Clara wrote to Schumann.
From the liner notes by Sophia Agranovich. Read more here
Fantasie – listen on SoundCloud:
Sophia Agranovich, internationally acclaimed and award-winning soloist, chamber musician, recording artist, educator, Steinway Artist, and a Juilliard graduate, is "a bold, daring pianist in the tradition of the Golden Age Romantics", "a tigress of the keyboard" – Fanfare. Her performances are mesmerizing audiences by the "orison of uncommon beauty" – Audiophile, "magnificent shading and superior musicianship" – American Record Guide.  Ms. Agranovich has performed in USA, Europe, Israel, and Canada, and has collaborated with prominent musicians and members of major orchestras.    Read full bio
Follow Sophia Agranovich on GrammyPRO
***
Reviews of this Album
"Without exaggeration, this can be described as a revelatory reading of Carnaval. Listen, for example, to the hiccupping, tipsy "Arelquin," whose tripping steps Agranovich traces with the most amusing depiction of a snockered clown burping his way through trying to walk a straight line. Again and again, throughout the 21 vignettes, Agranovich proves herself an exceptional master of the pictorial, a real colorist in the art of musical tone painting."
"I, for one, would not be unhappy to hear Sophia Agranovich playing this movement for all of my eternity. And yes, I know there are so many recordings of the Phantasie to choose from, you should ask not who by but by who not. But playing as beautiful, as poetic, as intimate, and as sweeping in it virtuosity as Sophia Agranovich's compels nothing less than an urgent recommendation."
-Jerry Dubins, Fanfare Read full review
***
"These performances of two of Schumann's most famous piano works is just so good, and so unusual, that it almost boggles the mind… Even if you have a dozen other recordings of Carnaval or the Fantasie, you need to have this one as well, because it will overshadow most of them. Agranovich plays it as if her life depends on it. Every note, every phrase is alive with feeling and meaning; you cannot listen to this CD impassively… I felt as if Schumann was communicating with me. It almost sounded as if she were the composer inventing the music at the keyboard… But it's that kind of recording…you almost feel like jumping up and applauding your heart out at the end."
– Lynn René Bayley, The Art Music Lounge   Read full review
***
"Agranovich spins a lyrical thread that holds the score together while at the same time giving us the individual flavor of each miniature. Her yielding touch is prefect for the tenderness of "Chopin," but one also notices here that Agranovich possesses intuitive rubato, which is all-important for both Chopin and Schumann. She is forceful in the opening "Préambule" without sounding hectic or clangorous. The passionate sweep of "Chiarina" doesn't slip into recklessness. This is a demanding score that displays every aspect of a pianist's artistry except Lisztian barnstorming, and as Agranovich proceeds from episode to episode, she is strong in every necessary quality."
"Agranovich plays the Fantasy with passion that's not overblown, tempo fluctuations that are not excessive, and a dynamic range that's not extravagant. So much for the negative virtues of this well-balanced reading. The positive virtues are just as evident. She has no trouble with the large scale of the Fantasy, and she plunges into the storms of the first movement with technical confidence and emotional freedom—Schumann's signature exuberance and exaltation are both captured."
-Huntley Dent, Fanfare Read full review
***
"Sophia Agranovich, native of Ukraine who now lives in the U.S. with the New York City area as her home base, gives stunning accounts of two of Robert Schumann's best-loved and most difficult works for solo piano. And she brings both of them off in a manner that made me feel I understood them better in spite of many years' previous acquaintance… Agranovich handles it all with style and intelligence."
–Audio Video Club of Atlanta  Read full review
***
"She captures a sense of playfulness with a firm sense of the music's pulse and rhythmic subtleties, and even a feel for the acrobatics one might encounter at a carnival. Her enthusiasm and energy often seem close to crossing over into a hectic state, but she has the wonderful ability to get right up to that line without breaching the structure and order of the music, while still maintaining control of her technique and tonality. This is, for me, a perfect recipe for playing Schumann. The effect is similar in the Fantasie, with an especially thrilling reading of the middle movement. There are, of course, many fine versions of these masterpieces, including more than a few of historic interest, but I am loathe to compare these performances to others, except to say that if you seek the last degree of finesse there are compelling alternatives. Most of this music benefits more from passion and imagination rather than from digital precision; Agranovich has a distinctive way with this music that is uniquely exciting."
-Peter Burwasser, Fanfare   Read full review
***
"It must take some bravery to release a recording in this core repertoire… Agranovich holds her head up high to provide performances that deliver much satisfaction.. Her Carnaval is characterful and superbly rendered. Her teasing way with "Arlequin" is terrific, light and coquettish; yet she can convey all of the Romantic sweep of the line of the "Valse noble" perfectly. Her sense of timing is impeccable, rubato everywhere perfectly judged, so that "Eusebius" has a sense of flow as well as being gorgeously shaded; her fingerwork in the ensuing "Florestan" is impeccable, speaking of a superior finger strength much needed in this piece. Agranovich's low pedal approach to "Papillons," which would cause many a lesser pianist to crumble, works beautifully; similarly, the crispness of "Lettres dansantes" is most appealing. Throughout all this, Agranovich manages to keep the idea of a single piece, of a single thread running through all this diversity, perfectly in mind, lending the performance a sense of inevitability that climaxes with the "Marche des Davindsbündler" while honouring the individual nature of each segment, however slight. Listen to the delightful staccato of "Pantalon et Colombine," for example, or her off-the-cuff way with "Promenade."
"It feels like there had been an agreement to throw caution to the wind, and we gain immeasurably. Agranovich's sense of keyboard colour is heard at its most radiant in the finale, where the music unfolds at a beautifully natural pace, and crowns this very special Schumann disc most memorably."
-Colin Clarke, Fanfare  Read full review