The Juilliard School at Lincoln Center, New York 
Sophia Agranovich is an esteemed pedagogue and has received numerous teaching awards. She conducts master classes and lectures, adjudicates competitions, coaches professional musicians, prepares for exams and auditions, and maintains private teaching studio.
Sophia's students are consistently winning top prizes in various regional, national and international competitions and festivals and had performed at such prestigious venues as Carnegie Weill Recital Hall, The Kennedy Center for the Performing Arts, Merkin Hall at Kaufman Center, Alice Tully Hall, Rose Studio and Bruno Walter Auditorium at Lincoln Center for the Performing Arts, Kimmel Center, Tenri Cultural Institute, Steinway Hall, Watchung Arts Center, as well as at  Rider University, Caldwell College, Montclair State University, New Jersey City University, Rutgers University, Polish Cultural Foundation, Polish Embassy, American Catholic University (Washington, DC), Old Dominion University (Norfolk, VA), numerous libraries, houses of worship, and art galleries. Selected students performed in Austria, Poland, Italy, and France. Their performances were broadcast on radio and TV, including WQXR in New York.

 Educational Heritage
Sophia Agranovich's music education heritage is one of the most impressive today and stems from the great tradition of Western European, Russian and American schools.  In Ukraine her teachers included Anna Stolarevich and renowned professor Alexander Edelman, peer of Vladimir Horowitz at the Kiev Conservatory in the class of Felix Blumenfeld and later  – disciple of Heinrich Neuhaus at the Moscow Conservatory.
At the Juilliard School in New York, she was a student of legendary professor Sascha Gorodnitzki, who himself was a student of Josef Lhevinne (peer of Sergei Rachmaninoff and Alexander Scriabin).  She also studied with the eminent Nadia Reisenberg, a disciple of the St. Petersburg piano school of Leonid Nikolaev and student of Josef Hofmann and Alexander Lambert – student of Franz Liszt himself. Sophia also studied with David Diamond and Joseph Bloch in musicology, Felix Galimir, Paul Doktor, and Samuel Sanders  in chamber music and ensemble. Ms. Agranovich was awarded Fellowship teaching Piano Minor at Juilliard.

Teaching Mission and Philosophy
In her instruction methods Sophia Agranovich combines traditional Russian, Western European and American schools. She teaches overall musicianship along with music theory, music history, ensemble, accompaniment and improvisation. She stresses the connection of music and other art forms, such as literature, painting and sculpture. This helps to achieve true style and balance in performing.  Ms. Agranovich guides her students to develop their individuality and independence in interpretations.  She uncovers hidden potential in every student, who progress very fast and to the best of their capabilities. She also incorporates into her teaching approach her additional studies and experience in psychology, kinesiology, music therapy, and meditation.  Sophia Agranovich is certified as Yoga and Pilates instructor, Life Coach, Holistic Fitness Practitioner and Holistic Health Practitioner. Sophia Agranovich's  broad range of interdisciplinary studies has greatly enhanced both her performing and teaching, specifically by reducing physical strain and technique limitations, achieving refined states of concentration, focus and inspiration.
 Live Recordings  by Students

Robert Argasinski (age 15) plays his own composition – The Tragedy of War
Robert Argasinski (age 15) – L. Beethoven: Sonata Op. 27, No.2 "Moonlight" mvt. III

Robert Argasinski (age 14) – L. Beethoven: Sonata Op. 13 No.8 'Pathetique', mvt. I
Robert Argasinski (age 14) – W. A. Mozart: Fantasy in C minor , K.475
Robert Argasinski (age 14)  – R. Schumann-F. Liszt: 'Widmung' (Dedication)
Robert Argasinski (age 13) – S. Rachmaninoff: Polichinelle Op.3, No.4
Robert Argasinski (age 13) – F. Chopin: Nocturne Op. 48 No. 1
More videos by Robert Argasinski
Tyler Fengya (age 8) – C. Debussy: Arabesque No. 1
Tyler Fengya (age 6) –  P. Tchaikovsky: June. Barcarolle (The Seasons)
Tyler Fengya (age 6) – F. Chopin: Nocturne No. 20 in C-sharp Minor
Tyler Fengya (age 7) – J. Haydn: Sonata in D, Hob. XVI/14; L.16)
More videos and improvisations by Tyler Fengya
Sophia Chen (age 10) – W. A. Mozart: Sonata in A minor K. 310
Sophia Chen (age 10) – F. Chopin: Impromptu in Ab Major 
Sophia Chen (age 11) – F. Liszt: La Legierezza
 Jacqueline Chan (age 14) – S. Rachmaninoff Prelude op. 23 no. 5 in g minor
Jacqueline Chan (age 9) – W. A. Mozart: Sonata in C Major K. 545
Jacqueline Chan (age 9) – F. Chopin: Nocturne Op. 72, No. 1 ; I. Albeniz: Malagueña
Lillian Qin (age 9) – R.Gliere: Romance
Chloe Lee (age 5) – Haydn, Beethoven, Kabalevsky
Mohamed Boubendir (age 14) – F. Chopin: Fantaisie-Impromptu, Op. 66
Mohamed Boubendir (age 12) – F. Chopin: Polonaise  Op. 26 No.1
Mohamed Boubendir (age 12) – R. Schumann: Arabesque, Op. 18
William Rehwinkel (age 13)- F. Chopin: Scherzo in Bb minor, Op. 31
William Rehwinkel (age 14) – L. Beethoven: Sonata Op. 31 No.2 'Tempest'
William Rehwinkel (age 14) – F. Liszt: Liebestraum no. 3
William Rehwinkel (age 15) – L. Beethoven: Sonata No. 31, Op. 110
Fares Al Habboubi (age 13)  – L. Beethoven: Sonata Op.2 No.1
Fares Al Habboubi (age 14)- F. Mendelssohn: Rondo Cappricioso
Fares Al Habboubi (age 14)  – W.A. Mozart: Sonata in C minor
More videos by Fares Al Habboubi
Playlist with more videos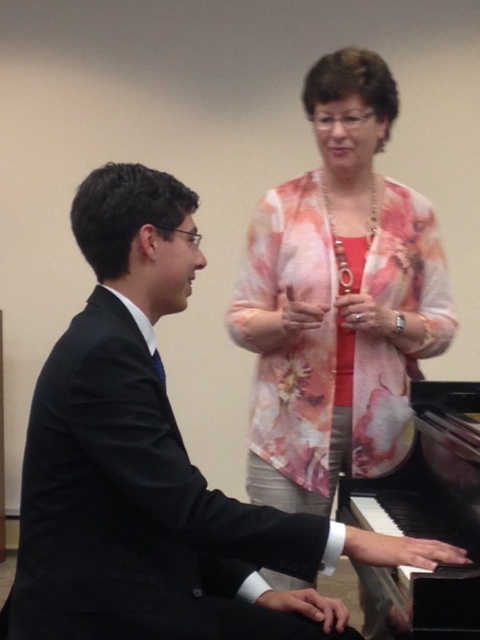 Robert Argasinski at the open MEA Master Class with Dr. Yoheved Kaplinsky (Juilliard)
Judging WPI International Competition at Kennedy Center: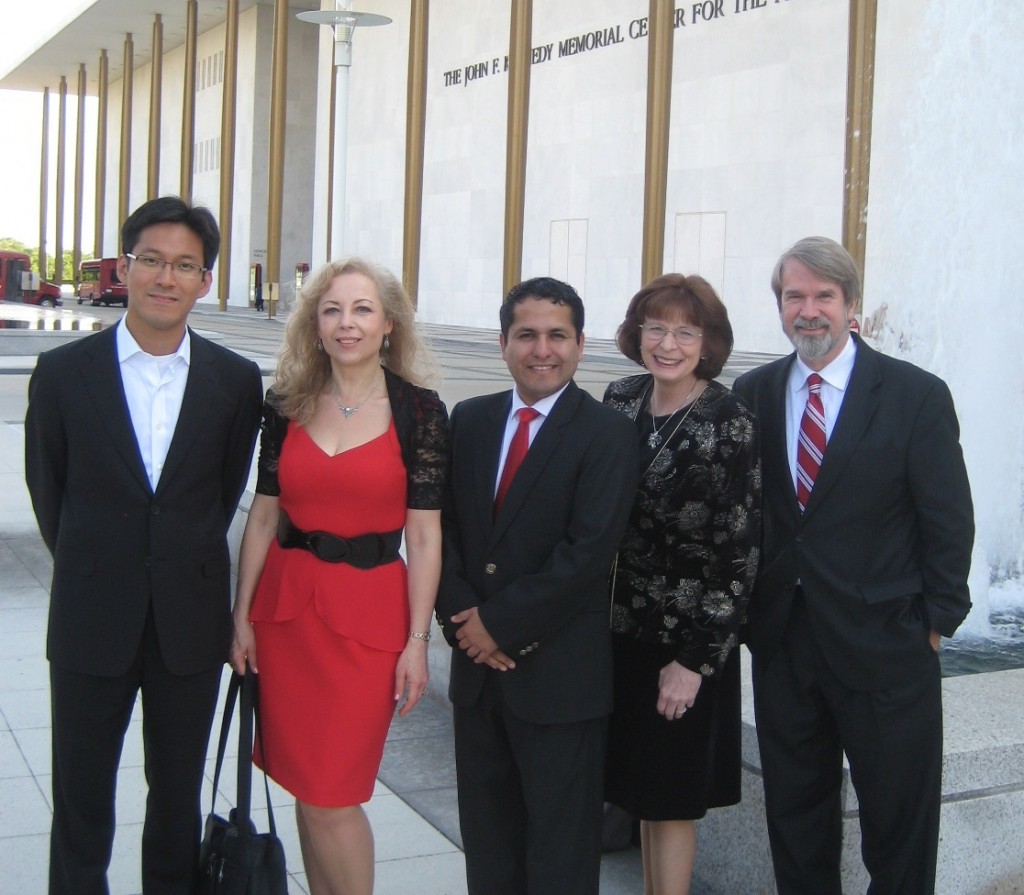 Sun Min Kim, Sophia Agranovich, Washington Garcia, Linda Monson, Robert Ruckman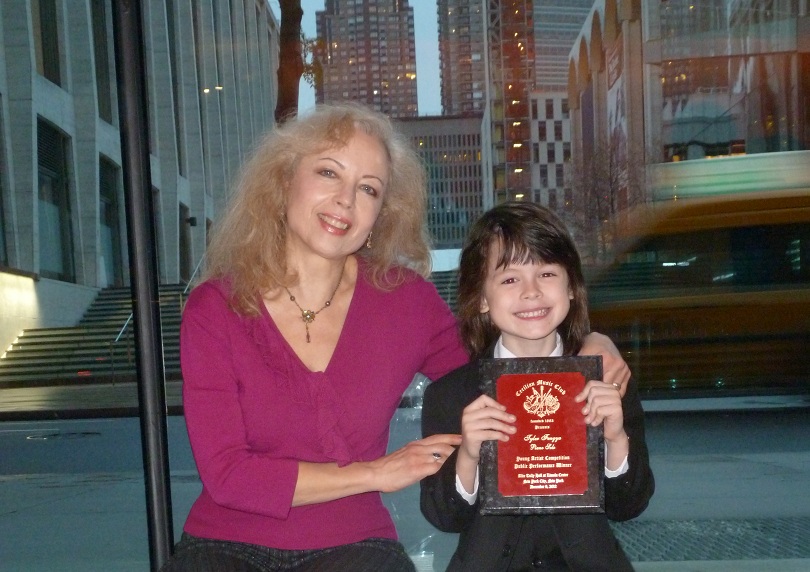 At Alice Tully Hall of Lincoln Center with Tyler Fengya after the Winners' Concert
***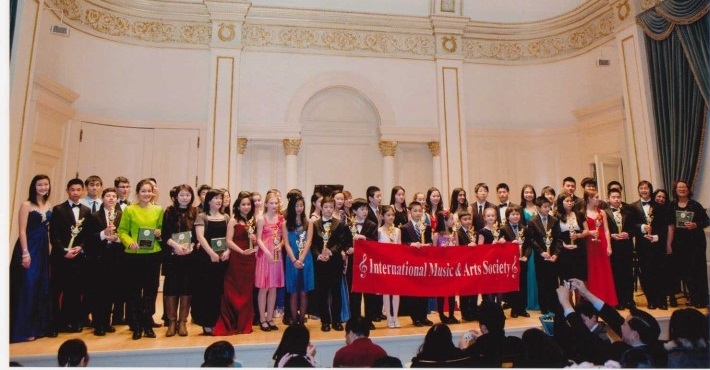 One of the many concerts where students of Sophia Agranovich played at Carnegie Weill Recital Hall

***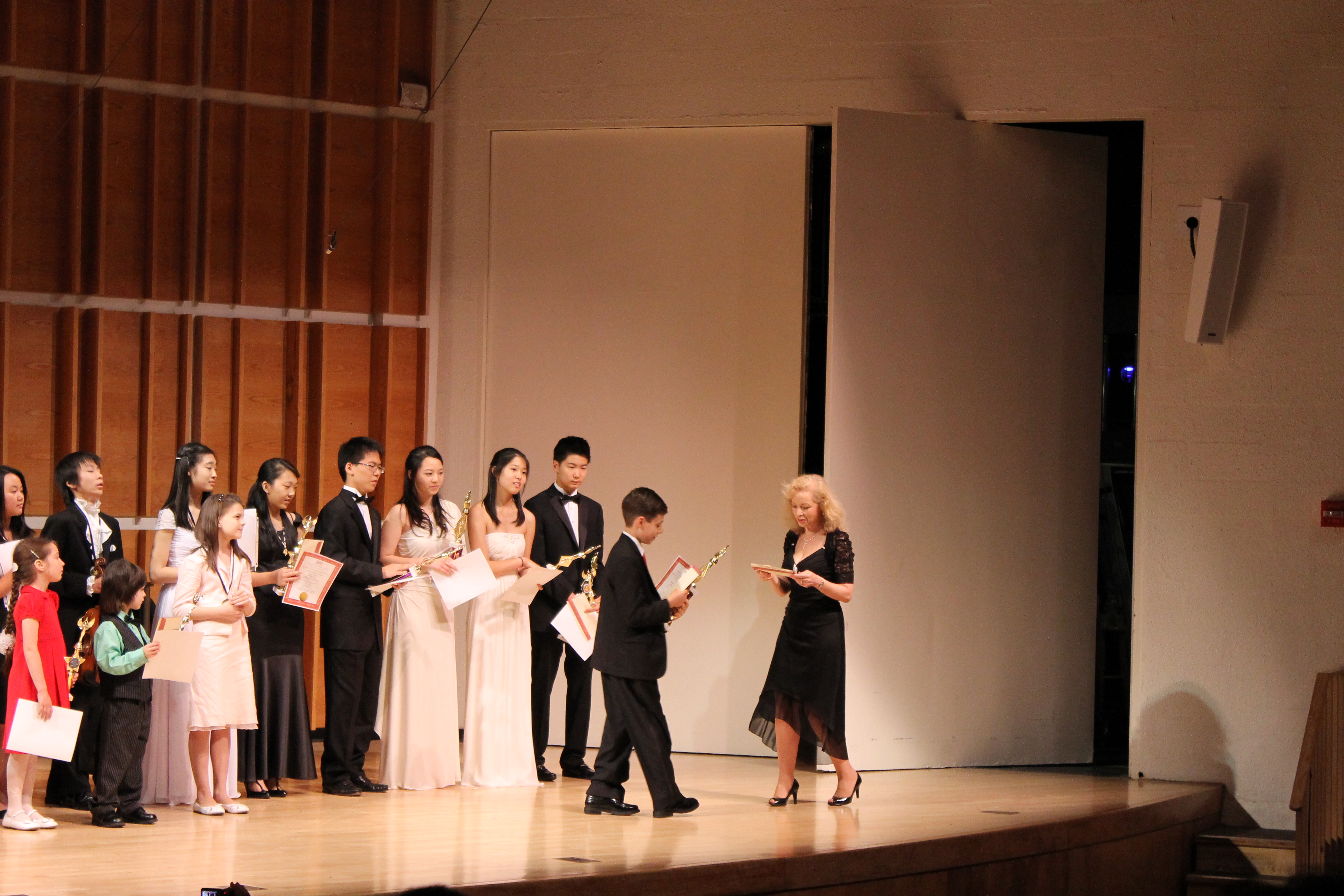 Award presentation at Merkin Hall, Kaufman Center